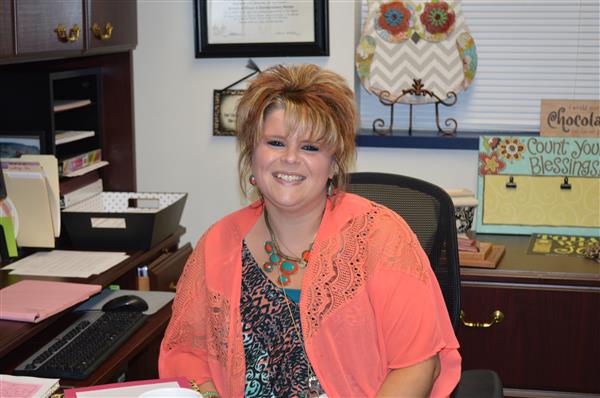 School/Degrees:

University of Phoenix (2014-2016) Major: Early Childhood Curriculum and Instruction: Degree Earned: Master of Arts in Education with Curriculum and Instruction in Early Childhood Education

Texas A&M University-Commerce (2004-2007) Major: Educational Administration; Degree earned: Master of Science in Educational Administration

Texas A&M University-Commerce (1999-2001) Major: Elementary Education; Degree Earned: Bachelors of Science in Interdisciplinary Studies with Specialization in Reading.

Ennis High School (1992-1996) Degree Earned: high school diploma, May 1996.

Experience:

July 2017 - present GW Carver Early Childhood Principal; Ennis Independent School District

July 2016 - July 2017 Dorie Miller Intermediate; Assistant Principal (Grades 4 - 6); Ennis Independent School District

June 2012 - July 2016 Lummus Intermediate; Assistant Principal (Grades 4 - 6); Ennis Independent School District

August 2001 - June 2012 5th grade classroom teacher (Math, Science and Social Studies) Schools: Ennis Intermediate School, Ennis Sixth Grade Center, Jack Lummus Intermediate School; Gifted and Talented program; Ennis Independent School District

Philosophy of Education:

I believe education must be a top priority. The fundamental purpose of schooling is student learning, and all children have the right to a quality education. My ideal school consists of a community of learners whose main focus is student achievement and well-being. I want my campus to be considered a caring community of people that have a specific purpose in mind-investing in the lives of our students. High standards are set, and high achievement is demanded. Staff members will establish high expectations for all students and provide the support necessary for them to achieve their goals. I believe effective schools have effective leaders. To be an effective leader, I must demand respect and responsibility from myself, my staff, and my students. I must transmit a well-defined set of goals to my staff, students, parents, and the community I work with. My goal will be continuously working to improve the culture of our building. Having a clearly defined vision for a school is essential to my success. My vision will include high standards of learning and school improvement. The school staff must share in this vision. A shared vision is very powerful and, will help to create an environment of low tension and high standards. A school must also have a clear, shared mission. Research and data will be used to help shape the mission of my school and to drive instruction. Staff, students, parents, and community members will all take part in developing this mission with me, and it should be widely shared and understood. I believe a positive school climate is crucial to success. The atmosphere of a school should be caring and nurturing to the student and one of trust and support to the staff. The school should be a supportive environment that is conducive to learning. Both students and staff should feel comfortable and safe at their school. Positive relationships also help to create a positive school culture and climate. These relationships are fostered when both staff and students are encouraged and provided the opportunity to work collaboratively.

I believe students are the most important members of a school community. With the appropriate strategies and support in place, all students can and will learn. The quality of the learning experience must be exemplary. Students must use creative thinking and analyzing skills, as well as how to apply what they have learned in order to be effective learners. Students performance must be evaluated frequently. Achievement data should be analyzed and instruction should reflect the indication of the data and be adjusted accordingly.

I believe children need constant support and guidance and their welfare should also be of top priority. Encouragement and praise are strong motivators and are crucial to ensuring students success. Students must learn and develop both academically and socially and a primary focus of education should be to prepare them for adulthood. I believe schools should solicit active involvement of parents and community members in the educational lives of their children. Opportunities should be provided for parents to work with their children in a learning setting. An open line of communication between school and home is essential to help build trust and collaboration with parents and staff. Effective schools use their teachers as part of a collaborative team that works together for the success of their students. Staff efforts should be acknowledged and appreciated often. When provided with the materials and tools necessary to implement an effective instructional program, teacher and student success will be inevitable. They must have the courage and determination to overcome difficulties. Decisions must be made keeping in mind what is in the best interest of the students, staff and the school. A school leader must have high expectations and strive for excellence. The focus must be on leading as well as managing. A balance must be found between instructional leadership, routine administration, and relationships. Success will find me being willing to take risks when necessary for the welfare of the school and students. I feel strongly that the relationship an administrator has with the staff is a key component of an effective school. I will continue to work hard to ensure that my relationships with my staff are positive and effective. As a school leader, I have dedicated myself to improving the educational experiences of my staff and students. My goal is to instill in them an attitude of hard work, determination, and pursuit of excellence in all things. Parents have trusted us with most precious possessions and it is my mission to be sure that I am being a positive influence, as well as affording students every opportunity to achieve academic excellence, as I lead my campus to success.

Family:

I am a life-time Ennis community member. Seven generations of my family have lived in Ennis before me, so I definitely feel Ennis is home. I am married to my husband, Jeremy, and we have two beautiful blessings in our daughters. Sydney is 5 years old and attends Kindergarten and Sadie is 4 years old and will attend Pre-K in the Fall of 2018. I feel my children are extremely blessed to get to grow up in this small, family-oriented community and attend our schools, here in Ennis. Sharing in their education with them has been so exciting and something I look forward to for years to come. When I married my husband, I also gained the privilege of having two other children join our family. Jeremy Jr., who is 12 and in the 6th grade, and Savanna, whos is 11 and in the 5th grade, live in a small town in Pennsylvania. We enjoy spending time with them and are grateful for technology, which allows us to stay in close contact with our family in other states!

When we are not busy with our school commitments, we enjoy traveling, camping, swimming/water activities and playing with our girls. We are a family who enjoys spending a lot of time together with extended family and often times find ourselves sharing in family barbeques, games and activities. We are also very involved in our church in the Ennis community and enjoy participating in church activities and functions.